After the Rain is a 570 page novel in the Christian historical fiction genre and was released on September 29, 2015. Click here to purchase your copy.
About the Book
He becomes the love of her life. She becomes his biggest challenge.
It's 1908, a year in the Edwardian Age, the year J.M. Barrie's play What Every Woman Knows, premiered in Atlantic City and the first Model T rolled off the assembly line in Detroit. It is a year when the world faced one of its worst disasters in history, when the New Year would heal the wounds of loss. Louisa Borden lives a privileged life in Chevy Chase, Maryland, a new and thriving community on the outskirts of Washington, DC for the well-to-do. Against the wishes of her domineering grandmother, she retreats from the prospects of a loveless marriage and instead searches for what she hopes is her calling in life.
When her horse is spooked along Rock Creek, she is thrown from the saddle—an embarrassing situation for any affluent young lady. Soaking wet, bruised and humiliated, she is carried up the muddy bank to safety by Jackson O'Neil, a stranger to the city, who changes the course of everything, including the lives of all those around her.
About the Author
Rita Gerlach is a best-selling author of inspirational fiction with a romantic bent, including The Rebel's Pledge, Thorns in Eden and The Everlasting Mountains, Surrender the Wind, and The Daughters of the Potomac Series. She lives in Maryland near the Catoctin Mountains with her husband Paul.
Giveaway
Enter below for your chance to win an autographed paperback copy of After the Rain and the audio books of The Daughters of the Potomac series.
Blog Tour Stops
Jan 11: Our Perfectly Imperfect Life
Jan 12: Singing Librarian Books
Jan 13: Bukwurmzzzz
Jan 13: Artistic Nobody
Jan 14: Daysong Reflections
Jan 15: Texas Book-aholic
Jan 15: Blessed and Bewildered
Jan 16: Reading is My Super Power
Jan 17: Through the Open Window
Jan 18: Jendi's Journal
Jan 19: Splashes of Joy
Jan 19: Christian Bookaholic
Jan 20: Debbie's Dusty Deliberations
Jan 21: Proverbial Reads
Jan 22: Simple Harvest Reads
Jan 22: Cassandra M's Place
Jan 23: Big Reader's Site
Jan 23: Janette's Thoughts
Jan 24: The Editor's Note
Jan 24: A Greater Yes
Jan 25: For the Love of Books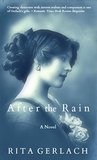 After the Rain by Rita Gerlach
My rating: 4 of 5 stars
After the rain is a romance that starts of slow, builds quickly when Louisa and Jackson are together, then slows back down when they are apart. It couples a love story and history to make the story believable fiction. I enjoyed the historical detail and the attention that was taken to each bit, even down to listing some of the products woman of that era used.
Louisa meets Jackson when she is in an embarrassing situation, it is a juxtaposition of how working class people and the wealthy class deal with a problem, and that thread weaves throughout the entire novel in various ways. Each time Louisa or one of her friends is faced with something to overcome the author proposes how it might be resolved by each social class. The love story was sweet though at points felt like a secondary plot. I cared much more about Louisa's development as a young woman of God than I truly cared about her ending up with Jackson. I wanted it to happen, yes, but it was more important that she take the steps she needed to, to find her calling.
I was given a free copy of this novel by the author through the Celebrate Lit blog team in exchange for an honest review, which I have given. The gift of a free book in no way guarantees that it will be positive.