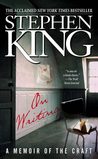 On Writing: A Memoir of the Craft by Stephen King
My rating: 5 of 5 stars
Stephen King offers his more than qualified opinion on what makes good fiction. Rules are good, but the language and the style are probably the most important tools you can develop. In fact, as one example, he will tell you to cut as many adverbs as humanly possible, then argues for keeping one at the end of the book. A dialogue tag, no less.
While I'm not a fan of his fiction, this work of non-fiction will remain on my eReader to refer back to as needed.